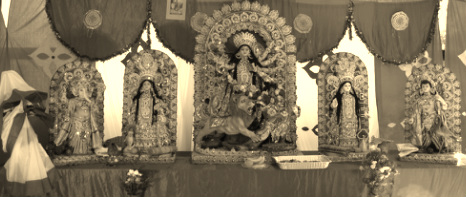 Udayani Cultural Club

Founded in 2002 the Udayani Cultural Club is a multi-faceted club operating under the Association of Indians in Connecticut, Inc for Indians-Americans Affairs, and in cultural affiliation with host other Indian and American organizations in America, as necessary. The mission of the club is to preserve and promote Indian-American cross culture through creative activity, performance and outreach. In fulfillment of its mission the club will be engaging in the following activities :


1. Research projects leading to the development of information resources and instructional materials.

2. Introduction of Indian cultural works in music and dance.

3. Integration of Indian music and dance with American music and dance.

4. Create a cross-cultural discussion group to include abstract domains such as morality, values, and symbolism to concrete domains
such as food, natural environment, and seasons.

5. Create Indian-American young adults group and encourage them to discuss ethical standards of behavior and consider cross-
cultural ethical standards.

6. Emphasize participation of local populations in the sustainable use of cultural resources available from Udaynai Cultural Club.

7. Performance of art works representative of Indians-American culture, as well as other cultures of the Indian diasporas.

8. Creation of opportunities for people of all ages , and various social, philosophical, ethnic, and cultural backgrounds to experience
voluntary giving, voluntary association, and community service in America.

9. Promotion of ensembles in three areas of performing arts : sacred and classical music, dance, and urban Indian popular music.
Activities would include concerts, premiere performance and recordings, visits by distinguished performing artists and lecturers,
festivals and seminars.

10. Improve the understanding of philanthropic works by gaining requisite information on areas such as nonprofit administration, fund
raising, grant making and stewardship.


Above activities are substantially different from celebrating Durga Puja and Laxmi Puja. Because it is a good internal control practice to segregate such activities from the Puja related fund, we have decided to administer such other functional program activities under the umbrella name of "Udayani Cultural Club". Our working definition is " Voluntary action for public good ".


---